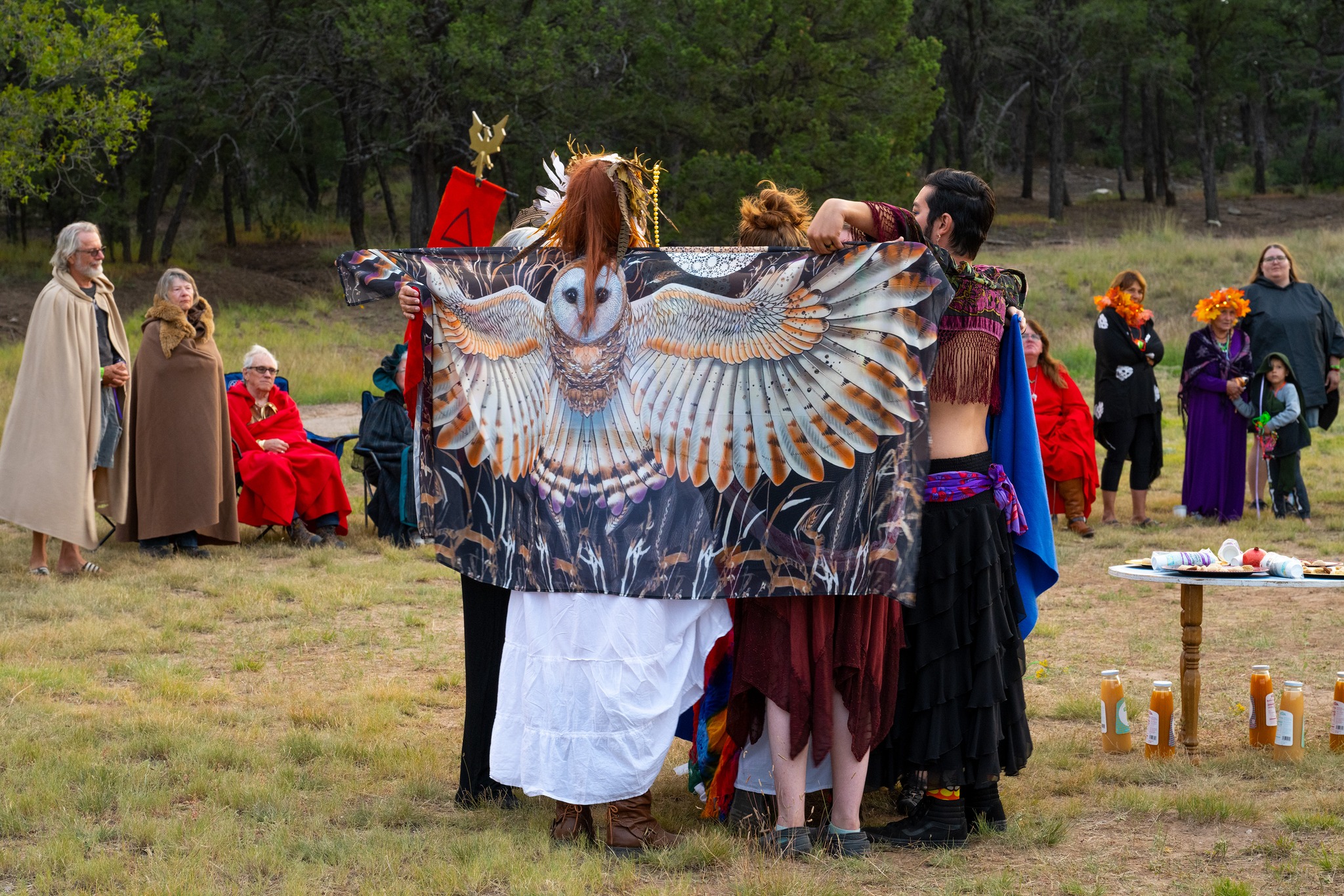 Mystic Mabon Southwest
Our annual pan-pagan celebration of the Fall Equinox includes rituals, communal gatherings, informational and experiential workshops, drum circles and music, and a variety of vendors who sell their wares or services. The schedule of events is available here. The festival dates are September 14 – 17, 2023.
Whether you celebrate the Fall Equinox under the names and traditions of Mabon, Alban Elfed, Haustblót, or others, we invite you to gather with us to luxuriate in the abundance of summer, reap and share your worldly and spiritual harvests, and give a nod of welcome to the coming darkness of winter, which still feels a bit distant, thankfully.
Fall Equinox is a time of balance, resting opposite its Spring Equinox partner, when light waxed into fecundity and fruit and grain. In September we begin to see the daylight fade, as the trees become emblazoned in yellow and red, turning slowly brown, soon be clothed in snow. Often called a Pagan Thanksgiving, Fall Equinox overflows with the bounty of our gardens, filling our tables with color and sustenance. It is a time of gratitude.
Our festival brings together folk from many pagan traditions. It is a place and time to connect, share, and learn. We are the Weavers expresses the theme of our 2023 celebration. We are both weavers and strands of the fabric we create as keepers of the old ways, which we perpetuate through solitary practice, family, covens and groves, etc., and wider community. Besides long-practicing elders, we welcome those who are seeking a path or exploring new avenues for spiritual fulfillment. MMSW hosts a community tent and activities to make it easy to meet like-spirited folk practicing various traditions.
We encourage you to bring costume, musical instruments, and an open heart and mind—anything that will foster your enrichment and enjoyment of the rituals, bardic circle, drumming, and discussions and workshops. On a more practical level, please read about the campground and what we recommend you prepare and bring if you are camping. The festival is held in the New Mexico National Forest near Tijeras in a primitive group campground.
MMSW runs on your volunteer power! We ask that you pitch in by signing up for a Community Service shift. We encourage you to sign up in advance online (link to come). For each shift you work, you will receive a raffle ticket for a drawing for a special prize. There are shifts that are more physical (walking camp, helping setup or breakdown vendor spaces, etc.) and some that are more suitable for those having limited mobility (gate, for example). We very much appreciate your contribution! Thank you!
All attendees must purchase a ticket in advance; we don't sell tickets at the gate or day passes. Early-bird prices are in effect until about a month prior to the festival. A small number of RV spaces are available and must be paid for with your ticket to reserve the space. Ticket prices and other fees are listed here. After you register for the weekend you will receive a confirmation packet with further details. If you purchase t-shirts, they will be waiting for you at the gate when you check in (t-shirt sales end at midnight August 14, 2023).
Write to info@mysticmabon.org if you have questions. We hope to see you among the hills and pines in September.